You know. I've been here before. I've harped on why I believe The Cars are deserving of inclusion into the Rock and Roll Hall of Fame. Of course, they're not going to be inducted for a second straight year. This year's class is highlighted by Pearl Jam, Tupac and Yes. Electric Light Orchestra, Joan Baez and cool 80's band Journey are also included.
So, how come The Cars aren't in? Were they not influential enough? Are you kidding?!?!?!?!?! Their combination of alt pop rock and new wave was something never heard or seen before. They certainly produced enough hits during a decade long run. The highlights include the timeless "Drive," the fun and poppy "Just What I Needed," and the ultra cool and hilarious "You Might Think."
None of their songs are bad. How about the classic "Moving In Stereo" which was featured in Fast Times at Ridgemont High in a epic scene where Judge Reinhold's character Brad Hamilton fantasizes about his sister's hot friend Linda Barrett played by sex symbol Phoebe Cates at the pool. A scene no heterosexual male will ever forget.
The way the song is played with that base just gives it the right touch. It was perfect for that movie and Hamilton's pornographic scene where Cates' Linda catches him in the dirty act by opening the bathroom.
You could listen to any song by The Cars or watch one of their unpredictable and downright laughable videos and get sucked in. It's not just the music either. It could be the uncanny yet talented Ric Ocasek with a few of the videos featuring mesmerizing model wife Pavlina Porizkova. It could be the wacky stuff they did when MTV was hot in the 80's. They had fun.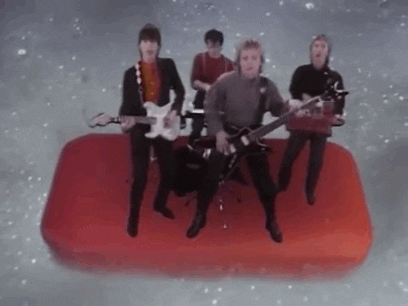 But make no mistake about it. Ocasek and gone too soon Benjamin Orr, who took turns on vocals depending on the song, were a terrific combo along with lead guitarist Elliot Easton, drummer David Robinson and keyboardist Greg Hawkes. The thing I like most is they all could play instruments. Orr doubled on bass and Ocasek played rhythm guitar. How many bands boast two talented vocalists? They were perfect choices for each song. Orr's pipes are amazing on Drive. The band's biggest hit. But Ocasek is so good on You Might Think. Not to mention him being a bee in the bathroom of his future wife during the memorable video.
Orr has been gone for 12 years losing a battle to pancreatic cancer. What if he were still around? Would he have been part of the reunion they had? One can only wonder. I say yes. But that's with my heart. They went onto successful solo careers.
As long as they're on the ballot, I'll continue to vote for them until they get in. In the meantime, here are some videos as a daily reminder of how great their music was.