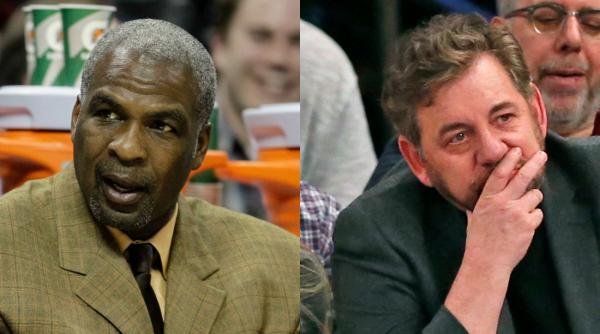 Despite a noble attempt by NBA commissioner Adam Silver along with Michael Jordan at a meeting between Charles Oakley and Knicks owner James Dolan, Oakley remains furious at Dolan. The latest has Oakley basically accusing the MSG owner of being similar to former Clippers owner Donald Sterling in an interview with Sports Illustrated's Maggie Gray.
While Oakley is justified in wanting a public apology from Dolan for falsely accusing him of being an alcoholic before the he agreed to lift the ban, accusing the man of being a racist is out of bounds. The notion that he is seems far fetched. What proof is there?
It's painfully obvious that an emotional Oakley has let a complex situation get the best of him. Even with Dolan apologizing as did the former Knick and uplifting the proposed ban from The Garden, it's not enough to repair the relationship. An apology would help. But it's unfair to compare Dolan to Sterling. An awful man who was outed in Los Angeles for racist comments made to his former girlfriend were caught on tape.
Sterling couldn't believe Oakley's accusation. He praised Dolan calling him a terrific owner. I'm not sure Knicks fans would agree with that statement. However, Sterling should know. He holds no ill will towards Silver and praised him for how he handled the Clippers situation in 2014.
As for Oakley, he has gone too far. He should publicly apologize for what he said. After that, who knows. I am not sure we'll ever see the day where Oakley and Dolan are seen in the same building together.
It's obvious that he's hurt himself with such sad commentary. Very poor choice of words. Now, he makes himself out to be as bad as Dolan, who was in the wrong. What it proves is that neither man is perfect. They are flawed. Each have faults.
As human beings, we all make mistakes. It takes a bigger person to admit to them and say, "I'm sorry." Here's hoping that things cool down for a while. Now might be a time for Oakley to just take a breather. He made Dolan a sympathetic figure. Something I never thought was possible.